Printer-friendly page
High Plains School marker
This marker tells the story of the High Plains Indian School, which opened in 1888. The school is no longer in operation. The marker reads:Established in 1888 for the Indians of Person County. First one room school was built on Green Martin's land 1 mile east. The second and third schools were built on land donated by Ditrion W. and Mary M. Epps in 1903. The school was unique in that it was financed by North Carolina and Virginia. In 1962, the school was closed and the student body transferred to Bethel Hill and Allensville Schools.
Image for non-commercial, educational purposes only.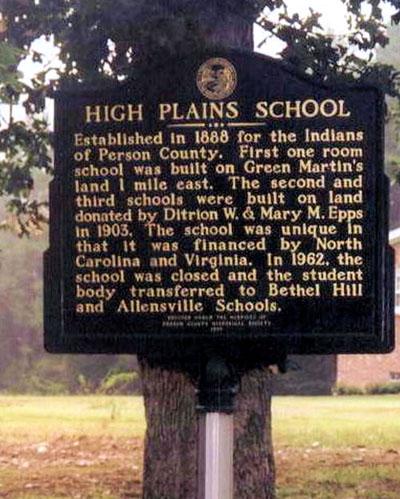 Usage Statement:
"All rights reserved" is a traditional copyright term that indicates that the copyright holder reserves for his/her/their own use all of the rights given to copyright owners under U.S. copyright law. Items that are included in NCpedia and/or ANCHOR with this rights statement appear by agreement or permission from the rights holder or the institution that holds the item. Click "Available at" to visit the website for the collection where the item appears for more information about the rights or specific uses allowed.