Printer-friendly page
Share NCpedia
Help us spread the word and share NCpedia!  
Do you have a school, library, or organizational website or other resource or event where you would like to share NCpedia? Check out the ways you can help us share the resource and promote access to North Carolina history and information.
---
Bookmarks with themes and images from North Carolina history are available to print and share. Five bookmarks per page will print on an 8 1/2" x 11" sheet. Please print bookmarks double-sided.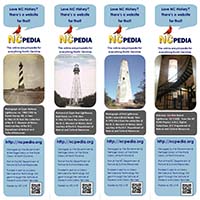 ---
Would you like to add the NCpedia logo to an article or link?  Download the NCpedia logo (500 x 141 pixels, 3.6 KB). Contact us if you would like a different size or file format.
Logo link: https://ncpedia.org/sites/default/files/ncpedia_logo.png
---
Give your community easy access to NCpedia on your website! Embed an NCpedia search box. Click here for details and code.
---
22 June 2012 | Agan, Kelly