Printer-friendly page
Battle of Moores Creek Bridge
American Revolution
by Josh Howard
Research Branch, NC Office of Archives and History, 2009
https://www.dncr.nc.gov/about-us/history/division-historical-resources/nc-highway-historical-marker-program

Listen to this entry
See also: Moore's Creek Bridge (Battle)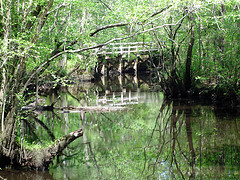 From February 15 to 21, 1776, the days leading up to the Battle of Moores Creek Bridge, Whig forces under commander Colonel James Moore camped on Rockfish Creek. At that site they were eight miles south of Cross Creek (present-day Fayetteville) where Royal Governor Josiah Martin's representative, Alexander McLean, and British officers General Donald MacDonald and Captain Donald McLeod were assembling a Loyalist militia. Their goal was to march the Loyalists to Wilmington and there defeat the Patriots, returning North Carolina to British rule. By fortifying the encampment at Rockfish Creek with over 1,000 men and five artillery pieces, Moore blocked the Loyalists's most direct route to the coast.
To get around Moore's blockade, Loyalists were forced to cross the Cape Fear River at Campbelton and use Negro Head Point Road, a route that crossed Moore's Creek. When Col. Moore learned of the Loyalists's chosen route, he sent messages to Colonel Richard Caswell to block their route at Corbett's Ferry over the Black River, to Colonel Alexander Martin and Colonel James Thackston to take possession of Cross Creek to prevent their retreat, and to Colonel Alexander Lillington to fortify Moores Creek bridge. Moore led his men to Elizabeth Town in hopes of meeting the Loyalists on their way to Corbett's Ferry. Aware of the location of Moore's and Caswell's forces, the Loyalists constructed a bridge four miles above the ferry and continued on towards Moores Creek. There they were met by artillery and rifles from Caswell's and Lillington's forces. By the time Col. Moore and his men arrived at Moores Creek bridge, the battle was over. The Patriots had defeated the Loyalists, killing or wounding at least fifty men. Moore and his men pursued the remaining Loyalists and captured 850 soldiers. With the victory at Moores Creek Bridge, North Carolina was saved from being overrun by the British.
References:
William L. Saunders, ed., Colonial Records of North Carolina, XI, 283
Hugh Franklin Rankin, "Moore's Creek Bridge Campaign, 1776," North Carolina Historical Review (January 1953): 23-60
Additional Resources:
National Park Service, Moores Creek website: https://www.nps.gov/mocr/index.htm
"The Battle of Moore's Creek Bridge." Revolutionary North Carolina. LearnNC.org. https://portal.ed.unc.edu (accessed December 5, 2012).
Capps, Michael A. and Davis, Steven A. Moore's Creek National Battlefield: An Administrative History. National Park Service, Department of the Interior. June 1999. https://www.nps.gov/parkhistory/online_books/mocr/ (accessed June 30, 2015).
1 January 2009 | Howard, Joshua