Printer-friendly page
Henry, Matthew George
25 Oct. 1910–19 Mar. 1974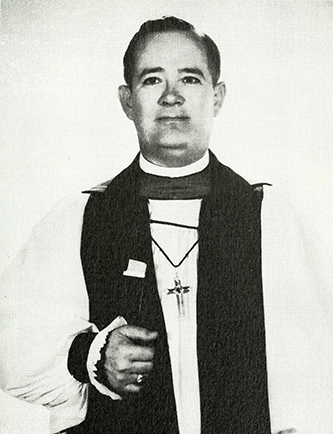 Matthew George Henry, bishop of the Protestant Episcopal church, was born in Chapel Hill, the son of Dr. George Kenneth Grant and Mary Elizabeth Harding Henry. His father was professor of Latin and later assistant registrar at The University of North Carolina. His mother came from a family long active in the Episcopal church in the state: her father, the Reverend Nathaniel Harding, was rector of St. Peter's Church, Washington, for forty-seven years; her grandfather, the Reverend N. C. Hughes, D.D., lived at Chocowinity.
Henry attended the public schools in Chapel Hill and entered The University of North Carolina in 1927, receiving the A.B. degree in chemistry in 1931. A member of Phi Beta Kappa, he held a teaching fellowship at the university while doing graduate work for a year. He subsequently enrolled at the Virginia Theological Seminary, Alexandria, where he was graduated with the bachelor of divinity degree in 1935. After his elevation to the episcopate, he was awarded honorary doctor of divinity degrees from the University of the South (1948) and the Virginia Theological Seminary (1949).
On Trinity Sunday, 16 June 1935, Henry was ordained to the diaconate in the Chapel of the Cross, Chapel Hill, by the Right Reverend Edwin A. Penick, Bishop of North Carolina. He was advanced to the priesthood by Bishop Penick in the Church of the Messiah, Mayodan, on 23 May 1936.
Following his ordination to the diaconate, Henry went to St. Philip's Church, Durham, for a short time. In November and December of the same year he was stationed at St. Paul's, Winston-Salem. Afterwards, Henry became deacon and later priest-in-charge at Christ Church, Walnut Cove; Messiah, Mayodan; St. Philip's, Germantown; and Emmanuel, Stoneville. In 1936 he moved to Tarboro to become rector of Calvary Church. He remained there until 1943, when he took charge of Christ Church, Charlotte. He arrived in Charlotte to find a fledgling mission; he left the church in a flourishing condition, and it afterwards became the largest Episcopal congregation in North Carolina.
In 1948 Henry was elected the third bishop of the Diocese of Western North Carolina, and on 29 September was consecrated at Trinity Church, Asheville. Thus began a remarkable episcopate of twenty-seven years, ending only with the bishop's death.
During his long association with the Episcopal church, Bishop Henry served in various capacities. He was a trustee of the University of the South, of the board of managers for Thompson Orphanage in Charlotte, of St. Mary's Junior College and of St. Augustine's College, both in Raleigh; president of the board of Patterson School near Lenoir; and on the board of managers of the Kanuga Conference Center in Henderson County. From 1965 to 1967 he was president of the North Carolina Council of Churches. He also served as president of the Fourth Province of the Episcopal church and in 1955 received the Worldwide Rural Worker's Fellowship Award for his work in rural church areas. Before his election to the episcopate, he had worked in Charlotte with the Mental Hygiene Board, Traveler's Aid, Medical Aid, Medical Social Service, and Community Chest. As bishop he was instrumental in forming the Asheville Human Relations Council and was appointed to the Governor's Special Committee for Religious Concern for Traffic Safety.
On 30 June 1937, Henry married Cornelia Catharine Sprinkle of Lexington. They were the parents of four children: Anna Catharine (m. Peter Wortham Howes), the Reverend Kenneth Grant, Matthew George, Jr., and Elizabeth Harding.
Bishop Henry died of a heart attack just a few months before his sixty-fifth birthday, when he had planned to retire. He was buried in Calvary Church-yard, Fletcher.
Update from N.C. Government & Heritage Library staff:
Matthew George Henry's correct date of death is March 19, 1975. Henry's daughter Anna Catharine married Peter Wortham Hawes (not Howes). And his daughter Elizabeth Harding married James Meade Edmonds.
References:
Asheville Citizen, 20 Mar. 1975.
Asheville Citizen-Times, 29 Sept. 1968.
Chapel Hill Weekly, 2 Oct. 1968.
Durham Morning Herald, 20 Mar. 1975.
Raleigh News and Observer, 26 Sept. 1948.
Additional Resources:
Alden, George Z. Church of the Messiah, 1900-1975 : a sketch of the work of dedicated Episcopalians in Rockingham, North Carolina, during both the mission and parish periods. Rockingham,N.C. [N.C.]: [s.n.]. 1975. 27-29. http://digital.ncdcr.gov/cdm/ref/collection/p249901coll37/id/23795 (accessed April 17, 2014).
Image Credits:
"The Rt. Rev. Matthew George Henry, D.D., Bishop of the Diocese of Western North Carolina." Photograph. Facing 4. Historical sketch of Calvary Episcopal Church. Fletcher, N.C: Calvary Parish. 1959.  https://archive.org/stream/historicalsketch00jenk#page/4/mode/2up (accessed April 17, 2014).
1 January 1988 | Moore, James Elliott