Printer-friendly page
McIver, Alexander
7 Feb. 1822–19 Aug. 1902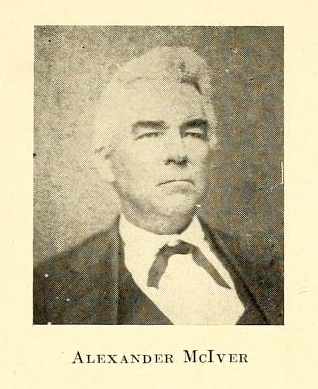 Alexander McIver, college professor, superintendent of public instruction, and farmer, was born in Sanford, then in Moore County, to Daniel and Margaret McLeod McIver. In 1853 he was a first-honor graduate of The University of North Carolina, where he remained for a few months as tutor of mathematics before becoming principal of an academy in Wadesboro. In 1859 he became professor of mathematics at Davidson College.
A Republican, McIver was elected to represent Mecklenburg County at the two sessions of the constitutional convention of 1865–66. In 1869 he became professor of mathematics at The University of North Carolina. Governor Tod R. Caldwell in 1871 appointed him state superintendent of public instruction, and McIver made reports to the General Assembly for the four years between 1871 and 1874. In the latter year he was defeated for the office by Stephen D. Pool. In 1875 he applied for but did not receive a professorship at the university; instead, he became principal of the Greensboro graded schools where he also taught for five or six years.
McIver then turned to farming and assumed a role in battling the problems facing farmers. As a delegate to the two farmers' conventions held in Raleigh on 18 and 26 Jan. 1887, he was elected a member of the legislative and executive committees. In August 1887, by appointment of Governor Alfred M. Scales, he was North Carolina's delegate to the Inter-State Farmers' Congress in Atlanta; at the congress, he was elected one of the vice-presidents. McIver also attended meetings in 1888 at Raleigh and in 1889 at Montgomery, Ala. In 1890 he was a candidate for Congress on the Republican ticket to represent the Fourth District but was defeated by B. H. Bunn, the Democratic incumbent.
McIver married Mary Ann Wilcox on 14 Jan. 1858, and they became the parents of six children: George Wilcox, Margaret Rockwell, Herman Martin, Alexander, Elizabeth Nash, and Mary. His wife died on 7 June 1878 in Greensboro, and in 1884 McIver married Catherine Laird Gilmour, by whom he had two sons: Mathew Gilmour and Robert Russell. He died in Sanford and was buried in the Buffalo Presbyterian churchyard.
Additional information from NCpedia editors at the State Library of North Carolina:
Lee County was formed in 1907. Sanford is in present day Lee County.
References:
Kemp P. Battle, History of the University of North Carolina, 2 vols. (1907, 1912).
Daniel L. Grant, Alumni History of the University of North Carolina, 1795–1924 (1924).
Kenneth L. Kelly, McIver Family of North Carolina (1964).
North Carolina Public School Bulletin, December 1946.
S. D. Pool, ed., Our Living and Our Dead, vol. 1 (1874–75).
Raleigh News and Observer, 4 Sept., 7 Nov. 1890.
Additional Resources:
Alexander McIver Papers, UNC Chapel Hill Libraries. http://www2.lib.unc.edu/mss/inv/m/McIver,Alexander.html
Image Credits:
"Alexander McIver." 1912. History of the University of North Carolina, volume 2, page 104. Online at https://archive.org/details/historyofunivers02batt. Accessed February 13, 2014.
1 January 1991 | Boughman, Lee